BIT 64 MM T38 RC for long-hole drilling underground.
Premium designs and steel and premium tungsten carbide insert grade T6 supplied by Boart Long year, Offers industry-leading strength and penetration rates for more productivity,Excellent straightness and hole clean quality, Get max.drilling performance for rock drill with long life to save up fuel cost rate.
BIT 64 MM T38 RC drilling accesories for radial drills
Famous Rock tools factory ProDrill manufactures rock drill bits: T38 Threaded type Button Bits is the most important size for benching and long-hole drilling underground.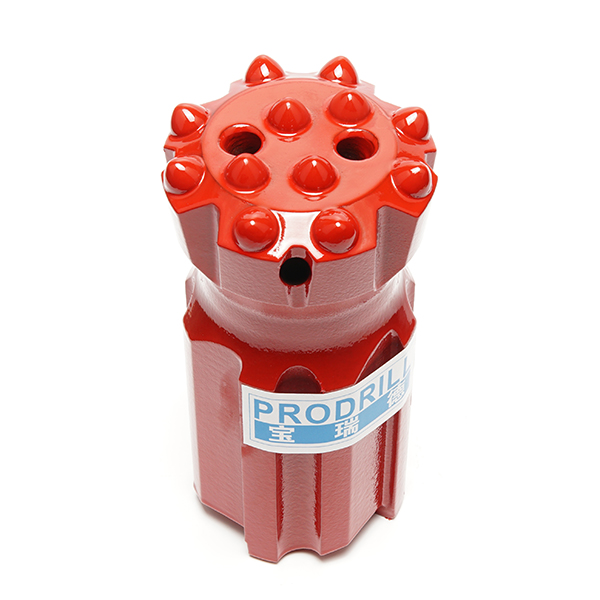 T38 Retrac Threaded Drill Bits basical details:
Diameter 64mm 76mm, 89mm,
Skirt body: retrac, and normal,
Face type: flat, uniface, drop center
Carbide shape: Dome, ballistic, semi-ballistic
T38 seris button bits used in bench drilling, underground long hole drilling to match extension Rod, MF Rod , Drifting drill rod working for heavy duty top hammer like Sandvik, Atlas Copco, Furukawa etc.
12 Semi-Ballistic carbide inserts T38 threaded drill bits with flat face design, 64mm diameter and retrac skirt body for bench drilling and underground long hole drilling.
Flat-face design detail of T38-64 threaded button bit with semi-ballistic buttons, retrac skirt, to match with extension drill rod steels such as MF Rod  Shank Bar 1525 mm as necessary drilling accesories for radial drills
For more details please view PDF online: T38DrillBitsforBenchDrillingLongHoleDrillingUndergroundCatalogue