Hollow Hexagonal Drill Steel
Feature
ProDrill Hollow Hexagonal Drill Steel has following advantages:
High fatigue strength and toughness, high intension.
High resistance to wear and permanent distortion.
Industrial process of heat treatment.
Uniform straightness, eliminating the need for straightening.
Description
Hollow Hexagonal Drill Steel, is a rock drill steel or integral drill steel without tips. Hollow Drill Steel Bar is a type of steel specially used in drill rod manufacture, high intension and toughness.
Integral drill rod without tip shank sizes 82.5 mm*22mm(3 1/4"*7/8"), 108mm*22mm(4 1/4"*7/8"), 108mm*25mm(4 1/4"*1"), 159,*25mm(6 1/4"*1). Lengths: 400mm to 6400mm(1'4"-21'). Head diameters: 27mm to 40mm.
Type
Length(mm)
hex22*108mm
945
1050
1350
1745
1950
Material: 95CrMo (Same as SANDBAR 20 or C253)
Diameter: Hex. 22mm, 25mm, 28mm, 32mm, 38mm.
Length: 800mm, 1600mm, 2400mm, 3200mm or any length according to your requirement.
Package: Wrapped with plastic knitting and then into bundles.
Hot Rolled Hexagonal Hollow Drill Steel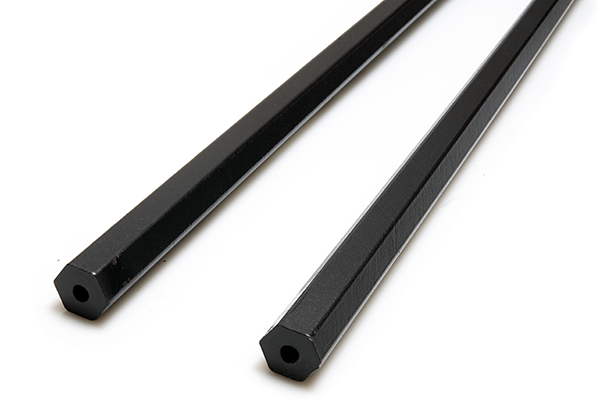 Steel Grade: 95CrMo
Chemical Composition:
C: 0.92-1.03PCT
Si: 0.25-0.45PCT
Mn: 0.25-0.45PCT
Cr: 0.80-1.20PCT
Ni: 0.25PCT MAX
Mo: 0.20-0.30PCT
S,P: 0.025PCT MAX
Cu: 0.30PCT MAX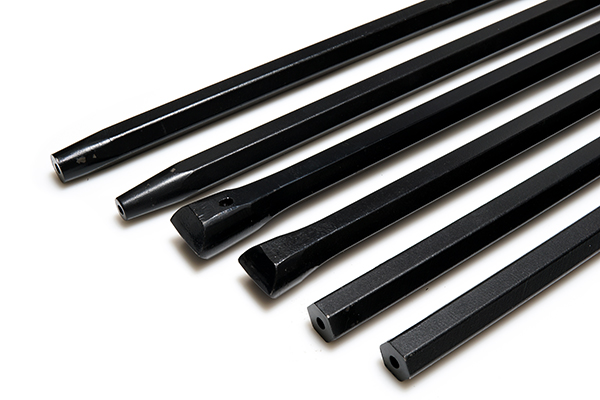 Hollow drill steel reduces the expense of impact energy, improves the drilling speed and efficiency, also it can be used for drilling bore hole diameter from 30mm to 41mm usually. Each rods use premium quality alloy steel and advanced industrial process to assure high drilling performance.
Integral Drill Steels, Hollow Hexagonal Drill Rods and Tapered drill rods.