Jumpo Super Wedge
Description
Rock drilling tools manufacturer Prodrill Jumpo Super Wedge as an attachment is designed for most of hydraulic Excavators to form Excavator Mounted Jumpo Splitter which can be used for large volumes of hard rock where blasting is not practical or allowed, also not suitable for traditional hand-held hydraulic rock splitter working like DARDA or Prodrill rock splitter.
Hole Diameter Range:

90mm-127mm

Oil Pressure:

24-35Map

First Split Size:

30mm

Theoretical Split Force:

2600T-4300T

Splitter Stroke:

600mm

Recommend Drilling Depth:

1350mm, 1500mm, 1600mm, 1800mm

Time Split One Angle Hole:

15-20s

Total Weight:

960KGS

Counter Wedges Effective Length:

750mm, 1000mm, 1200mm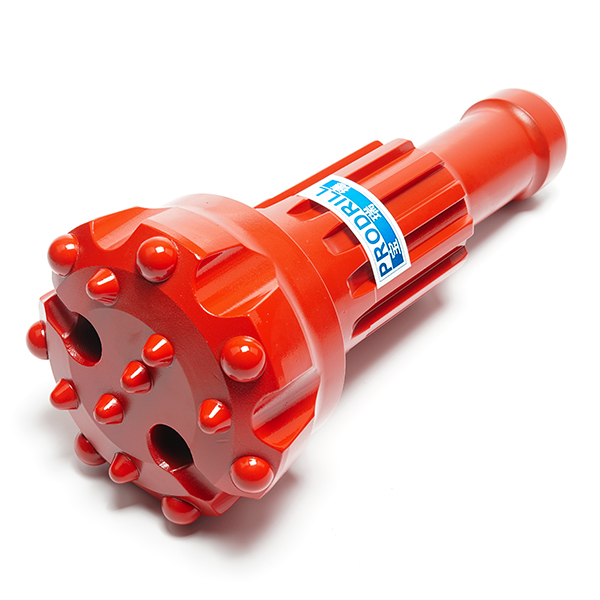 Its working principle is like universal Hydraulic rock splitters consist of two wedges which are inserted in a pre-drilled hole and a hydraulic cylinder is pushing out a over-sized center wedge between the two side super sized counter wedges forcing them to separate.
This new design, it is more advance and high efficiency and productivity than traditional hand held hydraulic splitter. For vertical applications (shaft-sinking, open pit excavation), the rock splitter is mounted on a chain or wire from a conventional excavator of 13 tons class or larger.
Work process
Drill the hole of which diameter is bigger than 80mmØ and 1~3 meter deep by crawler drill, or Prodrill Excavator Mounted Rock Drills available.
1.Switch on the power, switch on the control box.
2.Control the counter wedge is toward free face by wedge turning lever.
3.Put the power jumbo cylinders into the holes and then push the rock toward the free face side. Super wedge rock splitters consist of two over size wedges which are inserted in a pre-drilled hole and a hydraulic cylinder is pushing out a jumbo center wedge between the two side wedges forcing them to separate.
4.Push down the center wedge by lever on the control box, totally 12,000~ 24,000 tons power pushes the rock for 2-4 minutes and then the rock will be split.
5.Breaking the rock, pull out the center wedge to the end.
6.Take out the wedge set from the hole for next hole break job.
Advantages:
Safety: vibration free, noise free
High Efficiency: about 1 to 1.5 meters for one time and about one cubic meter splitting with highest productivity due to a very high splitter force, 3-6 times power than DARDA rock splitter. Rock splitting of 200 cubic meters per day with two crawler drills.
Adoptability : Prodrill Jumpo super wedge rock splitters can be attached to almost any kind of hydraulic excavator from 13 tons and up.
Simple, easy use and low cost in repairing : Just one Excavator can do Splitting, Digging and Cleaning. Installation of Super Wedge to excavator is very easy only requires just 20 minutes. Prodrill uses the same type of hydraulic oil pipe line as hydraulic breaker. Even man power, only one or two workers are enough to operate including operator of excavator.
Counter Wedge
Splitting wedges sets ( counter wedges + center wedge)
Excavator Mounted Jumpo Super Wedge for Quarry Rock Drills Application:
· Building basement dig out
· Road construction of downtown
· Vertical shaft construction
Specifications:
| | |
| --- | --- |
|  Hole Diameter Range |  90mm-127mm |
|  Oil Pressure |  24-35Map |
|  First Split size |  30mm |
|  Theoretical Split force |  2600T-4300T |
|  Splitter Stroke |  600mm |
|  Recommend Drilling depth |  1350mm,1500mm,1600mm,1800mm |
|  Time Split one angle hole |  15-20s |
|  Total Weight |  960kg |
|  Counter Wedges Effective Length |  750mm,1000mm,1200mm |
Jumpo Super Wedge Operation Video