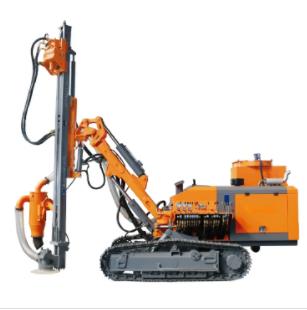 The Blast hole rock drilling DTH drilling rig is an improved device in compliance with national requlations in diesel-engine emissions. Equipped with YUCHAI four-cylinder engine (China 3), the drill rig meets national standards fro emissions and environment. The folding frame track, four-wheel drive are adopted; add track leveling cylinders and the plunger piston tramming motor improves the working pressure and increase the rotary torque and revolving speed. The lifting oil cylinder and chain are expanded to promote the lifting force and reliability. The thickened profile folder is used for housing, thus improving its level of intensity and rigidity. The additional ring makes handling and lifting more convenient. 
Prodrill hydraulic DTH driling rig adopts new-style hydraulic technique which have low air consumption and large rotation torque. The structure of this drilling rig is compact. During drilling the slide-skid support on the ground to ensure the drilling has good stability.  
This DTH drilling machine rotary organizations adopts a new dual-motor turret to make the open-air blast drilling operations while drilling large holes maintain a strong torque output with air compressor. 
Specification of DTH drilling rig PD-430-1 :